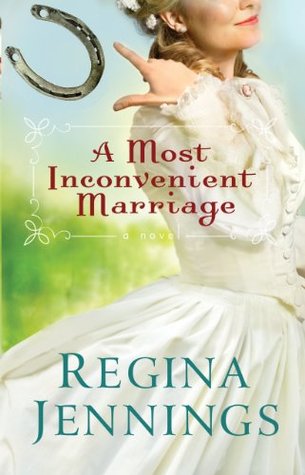 A Most Inconvenient Marriage
A Marriage of Convenience Turns Most Inconvenient in this Historical Charmer

Having fled a difficult home life, Civil War nurse Abigail Stuart feels like her only friend in the world is sweet but gravely wounded patient Jeremiah Calhoun. Fearing he won't survive, the Confederate soldier's last wish is that Abigail look after his sickly sister at home. Marry him, return to his horse farm, and it'll be hers.

Left with few choices, Abigail takes him up on his offer and moves to Missouri after his death, but just as the family learns to accept her, the real Jeremiah Calhoun appears--puzzled to find a confounding woman posing as his wife. Jeremiah is determined to have his life back to how it was before the war, but his own wounds limit what he can do on his own. Still not fully convinced Abigail isn't duping him, he's left with no choice but to let the woman stay and help--not admitting to himself she may provide the healing his entire family needs.
My Review: 10/10
I have been waiting for what feels like an eternity for this book, and Ms. Jennings did not disappoint; her excellence is as consistent as ever. This novel has it all- history, romance, Christian and moral elements, adventure, personal growth, humor, everything.
I loved every moment of this book.
I was frequently bursting out laughing over the shenanigans and antics that the Huckabee kids got into. I will admit that I don't usually like children as supporting characters in this genre. They rarely are depicted realistically, but rather portrayed as little angels that highlight the heroine's maternal instincts thus making the hero fall madly in love with her. Please. I have kids; you can't pull the wool over my eyes. I love them more than my own life, but they bring out the worst in me as often as they bring out the best in me. Anyway, Ms. Jennings writes life into her characters of all ages. Josiah and Betsy were adorable and hysterical and innocent and mischievous and real. And I loved Abigail's playful spirit. Oh, the piecrust. And Betsy's "kitten!" I haven't laughed like that in quite a while.
I loved that Abigail notes on a few occasions that Jeremiah is not classically handsome, and certainly not the most handsome man she'd ever laid eyes on. Her reflections on his appearance change naturally as her respect and admiration for him grows. I respected her for that.
I loved that Jeremiah didn't know his own heart for most of the book. How accurate. How often do we convince ourselves that we want something, need something, deserve something, and plow on after it, trampling God's opportunities in our path? Often we don't even realize how wrong we were until we've gotten what we thought we wanted and it doesn't satisfy. How grateful I am when He intervenes!
The plot was so well done. The suspense was never too extreme or outlandish. With about 80-90% of the book read, I considered the fact that this story might end in a very unexpected way. Books in the historical fiction/Christian romance department are often predictable. I mean, you know what the story is driving at and how it will likely end. But every so often an author blindsides you with an unexpected blow to take you through a different emotion or experience than the one you signed up for. Ms. Jennings had blindsided me before and I found myself wondering if the love story unfolding was really the story of people I hadn't invested in.
The growth in some of the characters was natural and well paced, set off by realistic circumstances. I appreciated an honest portrayal of vices, virtues, pain, confusion, mistakes, and sacrifice.
I completely understood Abigail's heart when it broke for rejection, yet rejoiced in the man that Jeremiah was. An impossible situation. But those seem to be God's specialty. I cheered when Abigail decided she wouldn't go down without a fight. But even more, I loved that ultimately it was neither what she did, nor what Jeremiah did, but what God did. From beginning to end, and every second in between, this was the very best kind of story.