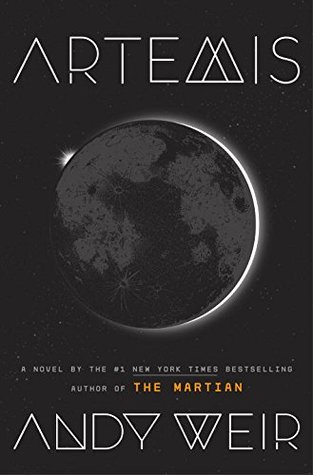 Artemis
Jazz Bashara is a criminal.

Well, sort of. Life on Artemis, the first and only city on the moon, is tough if you're not a rich tourist or an eccentric billionaire. So smuggling in the occasional harmless bit of contraband barely counts, right? Not when you've got debts to pay and your job as a porter barely covers the rent.

Everything changes when Jazz sees the chance to commit the perfect crime, with a reward too lucrative to turn down. But pulling off the impossible is just the start of her problems, as she learns that she's stepped square into a conspiracy for control of Artemis itself—and that now, her only chance at survival lies in a gambit even riskier than the first.
My Review: 6/10
Andy weir does an amazing job of bringing these places to life with attention to detail- noting things like the way coffee would taste on the moon due to a lower boiling temperature. I love that about his writing.

And I liked the conversation flashbacks between young Jazz and her pen pal on Earth.

And maybe it's not fair to compare this book to The Martian (which was phenomenal by the way). But I can't help it. This book felt lackluster to me in general and even worse by comparison.

I never really connected with Jazz and spent the first half of the book being distracted by her characterization; she -sounded- like she was written by a man. I couldn't help feeling frustrated that now that the narration was from a woman's perspective (as opposed to Mark Watney in The Martian), there is regular mention of sex (like asking Jazz to test out a non-disposable condom as "payment." Not kidding). The contrast of narratives was stark to put it mildly.


**SPOILER ALERT** Then the action picked up... but the plot didn't sit solidly with me. A million slugs is only about $166,000. Which is still a lot of money but certainly not enough to make her set for life or risk getting sent back to Earth. There seemed like quite a few plot holes and the other characters/relationships felt one dimensional.