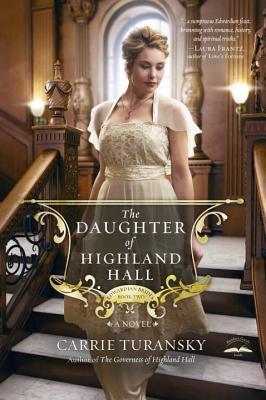 The Daughter of Highland Hall
Fans of Downton Abbey, Jane Eyre, and Pride & Prejudice will enjoy this pure and inspiring romance taking place in Edwardian England amid a clash of cultures and changing times.

Eighteen-year-old Katherine Ramsey travels to London with her family to make her debut into society and hopefully find her future husband. Her overbearing aunt insists she must secure a proposal from a wealthy young man who is in line to inherit his father's title and estate. But Katherine questions her aunt's plans when she gets to know Jonathan Foster, a handsome medical student and strong Christian who is determined to protect the poor and vulnerable in London's East End. When a family scandal puts a damper on Katherine's hopes for the season, she has time to volunteer with Jonathan, caring for children in one of London's poorest areas, and romance blossoms. Katherine's faith grows and she begins to envision a different future with Jonathan. But when Katherine's work in the East End puts her in danger, Jonathan distances himself from Katherine to protect her. A wealthy suitor reappears, and Katherine must choose which path to follow.
My Review: 6/10
This was better than the last book. While I found much of it to tie itself strongly to pretty much every other book in this genre, there were a few things that stood out to me in a wonderful way. Our heroine makes a comment about following your heart and this being the right move and, for perhaps the first time ever, our hero responds with a comment about how his choice was NOT about following his heart because our hearts are inherently deceitful and following them can lead us astray. He followed up with clarifying that our choices should be made based on following God and then he took the time to question the motivation behind his actions and pray about it. Holy cow, I was impressed. This (the whole following your heart nonsense) is something that has bothered me for so SO long and I have no idea how many times I've vented about it. More than I've been able to keep track of. I am so grateful that an author finally adressed this way of thinking and set the record straight.
I was also super surprised and appreciative of Julia's advice about being equally yoked. I loved that it came about naturally, that it wasn't what he wanted or hear (or what she wanted to say, most likely), and that it pointed to a weakness in Jon. I love when authors allow their characters to be flawed and to make mistakes; it allows realistic growth and lets me really bond with them.
But I did have a few disappointments that I couldn't ignore.
First and loudest: why was Julia there? It seemed beyond inappropriate that William and Julia were still living under the same roof now that they were courting and engaged. It seemed to me that she probably should not be the children's governess anymore, but at the very least, she should have moved out. Sure there were some social mores that I wasn't surprised at them ignoring, but this wasn't just about what society thought, but about staying clear of temptation and maintaining an upright appearance. Realistically, I thought all this would press for a short engagement. But instead they decided to have a normal courtship while also playing at marriage. I thought it was wrong that Julia lived under the same roof, continued to work for the family, and yet acted as mistress of the house; William makes every decision with her, speaking as a "we," etc.
On the opposite end of the spectrum, * SPOILERS * Jon immediately follows up a declaration of love with a marriage proposal. Wait, did William do that too? Now I'm not sure and it seems likely. I guess it only stood out as so awkward because we get to see William and Julia's courtship, but Jon and Kate jump from acceptance to the wedding day. I don't know, apparently in Ms. Turansky's Edwardian time period, couples fall in love from a handful of daily interactions, then wrestle with it, accept it, declare it and then propose. There is no courting. There is no slow build.
Which brings me to me last issue: when making his fine speech, Jon says that he has loved her from first sight. Not only am I sure that was not true (Kate references seeing friendship in his eyes and then Jon is disappointed in her lack of interest in current events) but I think if it were true, it would cheapen those feelings because they couldn't have been built on anything but attraction.
All in all, if you like christian historical romances, you likely enjoy this. As for me, I probably wouldn't buy it or reread it, but I am looking forward to the next book, which seems likely to be about Penelope (and Theo?)!