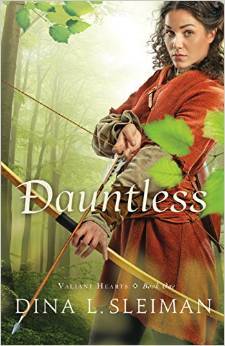 Dauntless
Though once a baron's daughter, Lady Merry Ellison is willing to go to any lengths to protect the orphaned children of her former village. Dubbed "The Ghosts of Farthingale Forest," her band of followers soon become enemies of the throne when they hijack ill-gotten gold meant for the king.

Timothy Grey, ninth child of the Baron of Greyham, longs to perform some feat so legendary that he will rise from obscurity and earn a title of his own. When the Ghosts of Farthingale Forest are spotted in Wyndeshire, where he serves as assistant to the local earl, he might have found his chance. But when he comes face-to-face with the leader of the thieves, will he choose fame or love?
My Review: 6/10
I really loved the historical aspects of this book. Medieval tales are not very common in historical romance, so even though there are nods to Robin Hood, it felt like a fresh tale.
Christian themes are more heavily woven in, which I enjoyed. I only wondered at Timothy's rapid change of heart. It was like a switch being flipped, and though we were often in his head, I didn't witness it. One minute he's telling Merry that King John is God's annointed and then just hours later, he's telling her that she was right. While I prefer slow, gradual changes, I'm not opposed to overnight shifts like this if it is done well, when the reader can see the catalyst.
The book was a little slow going for me, despite regular action scenes. There was a lot of build up about future plans and relocation, which real resolution happening all at once in about the last 15% of the book.
I really liked the character of Earl Wyndemere. I mean, he wasn't always likeable, but I liked how honestly he was portrayed. And I found his flaws interesting when compared with his virtues. No one is perfect. I mean, even David, who was known as a man after God's own heart, was a poor father.
If there is another book in this series, I will look forward to reading it and seeing what other Biblical questions are raised. Fingers crossed that we will get to see Allen reap his blessings!