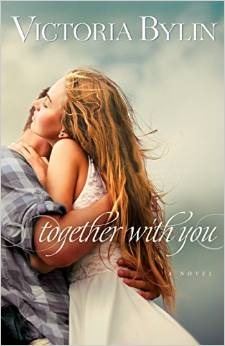 Together with You
A Tender Contemporary Romance about Finding Unexpected Love
When a Lost Child warning blasts over the mall's PA system, toy store manager Carly Mason finds the little girl playing with a stuffed rabbit. Something about five-year-old Penny Tremaine is different. An ex-social worker, Carly recognizes that Penny suffers fetal alcohol effects, and a piece of Carly's own past suddenly confronts her. Never again will Carly become involved with a client. The risks are far too great. But something about Penny--and Penny's handsome father--tugs at Carly's heart. Before she has time to think it through, she agrees to a much-needed job as a nanny.
Dr. Ryan Tremaine knows he messed up his life. But this summer he will redeem himself. With his ex-wife remarried and on a trip far away, his two teenage sons and Penny are living under his roof full time. Ryan is dedicated to his sink-or-swim list, a plan to reconnect with his children. The first step: recruiting Carly Mason to be Penny's nanny.
Ryan never anticipated being so drawn to Carly, an attraction Carly seems to fight as much as he does. Could Carly be the missing piece that helps his family stay afloat, or will their blossoming romance only complicate things further?
My Review: 4/10
A warning to those sensitive souls who cannot stomach graphic violence: this is probably not the book for you.
This book reminded me with I stay almost exclusively in historical fiction. While I know that the violence that plays a role in this book (murder, rape, etc) has always happened, I do believe it was less... casual, if not less prevalent. Therefore, my chances of stumbling upon a book with a subplot of *SPOILER* teen drug-related serial rape/beatings/murder (where the child is only discovered because his mother finds his "trophy" and inadvertantly turns her kid in to the police) are much less. Even worse, it seemed to serve no purpose but to force the heroine into living at her employer's house against her better judgement. I didn't know what I was getting myself into. I wanted to know how their story ended, but I just couldn't finish it. A little more than halfway through and I was already having trouble sleeping. In the end, it wasn't worth it.
On a side note, I was wondering why Ryan kept saying that was just as responsible for Jenna's drinking during the pregnancy. I definitely could be wrong here, but I thought FASD was caused by continual drinking during a pregnancy, not just on the night of conception. In fact, I'm not even sure how drinking that one time would have any effect on the baby- to begin with, it can take days to get pregnant. Unless they carried on their relationship, while regularly drinking heavily (which did not seem like the case), this just didn't make much sense.