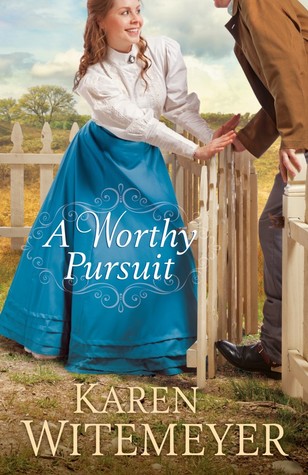 A Worthy Pursuit
Stone Hammond is the best tracker in Texas. He never comes home empty-handed. So when a wealthy railroad investor hires him to find his abducted granddaughter, Stone eagerly accepts.

Charlotte Atherton, former headmistress of Sullivan's Academy for Exceptional Youths, will do anything to keep her charges safe, especially the little girl entrusted to her care after her mother's death. Charlotte promised Lily's mother she'd keep the girl away from her unscrupulous grandfather, and nothing will stop Charlotte from fulfilling that pledge. Not even the handsome bounty hunter with surprisingly honest eyes who comes looking for them.

When the teacher he's after produces documentation that shows she's the little girl's legal guardian, Stone must reevaluate everything he's been led to believe. Is Miss Atherton villain or victim? She acts more like a loving mother than an abductress, and the children in her care clearly adore her. Should Stone break his perfect record?

Then a new danger threatens, and Charlotte is forced to trust the man sent to destroy her. Stone becomes determined to protect what he once sought to tear apart. Besides, he's ready to start a new pursuit: winning Charlotte's heart.
My Review: 6/10
This book could only get me halfway there. So "satisfying" or "unsatisfying" depends on what you want out of it, or what you compare it to. It's a good match, a good companion, to her other books, so if you're a fan, I think you'll enjoy this one too. But for me, it just didn't stand out and I needed something extraordinary.
*slight spoilers ahead*
There were a couple of lines that had me laughing out loud. And the storyline was interesting and definitely suspenseful. In return, I had to overlook the insta-love, our heroine's breathtaking beauty, and some poor choices; I think kindness and integrity can be portrayed without sacrificing intelligence and wisdom. For example, if a strange man was caught on my property spying on me and my children with binoculars,
especially when I was in hiding in a remote location,
you can bet that I would not invite him into my home to personally care for his wounds in a show of charity and good faith.
On the whole, this book felt half baked. It seemed like the carefully woven lessons didn't hold up to pressure and it just unraveled.
There were heavy doses of scripture applied well
- I loved the use of proverbs and Charlotte facing the fact that she had a control issue. I loved the way lending spiritual strength was portrayed, especially in light of the circumstances. That had to take strong faith and I thought it was a great example. Charlotte's choosing positivity and gratitude when it would be so easy to slip into fear and doubt and negativity was a great example as well: "God's blessings were so prevalent, a person could always find a reason to rejoice."
But then
, characters' actions didn't hold up to their professed virtues. I had warning bells going off in my head when Stone pretended he'd been deceiving Charlotte; I thought for sure this was going to turn into an epic misunderstanding. Though I was pleasantly surprised that it didn't, I was still disappointed in Stone for going there. I've certainly gotten backed into corners and the natural instinct to tell a clever lie bubbled to the surface. But God doesn't
need
us to lie our way out of things. He's bigger than that. Of course we still slip up, we still make mistakes, but I felt like this deception was passed off as something to admire, rather than a flaw of human nature. As if, because we knew his
true
feelings, no harm done. Stone's fear of his enemy's power was stronger than his trust in his God. I'd have preferred to see an example of what God could do with bold faced honesty and unswerving faith.
I loved Stone's firm personality
. His determination and openness is not something that is usually seen in this genre, and it was so refreshing. I loved that he responded to her need to learn how to trust with straightforwardness and solemn vows. I loved Charlotte's unyielding personality too. She acted with decisiveness and confidence.
But then
, moments of doubt would come out of nowhere. For example, Stone has just declared his intent to pursue her until he
gains her or dies,
but a few pages later, Charlotte tells herself that she has no right to expect anything or make demands of him. What? For someone who exudes strength and confidence, her random boughts of unfounded insecurity seemed to exist only to drive the suspense and the thrill at the eventual resolution. Why? It's not like readers don't know where this is going to end up; you can't have it both ways- characters who are so in love that they openly declare their intent, but then uncertainty as a driving force of suspense.
And, as always, this book would have been so much better if we were only privy to
one
character's thoughts.