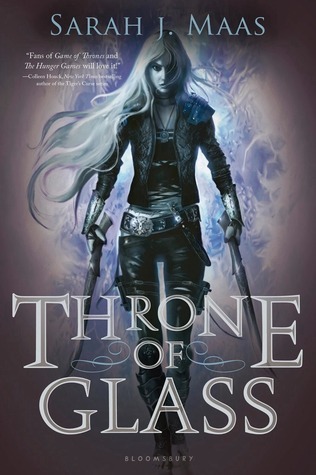 In a land without magic, where the king rules with an iron hand, an assassin is summoned to the castle. She comes not to kill the king, but to win her freedom. If she defeats twenty-three killers, thieves, and warriors in a competition, she is released from prison to serve as the king's champion. Her name is Celaena Sardothien.

The Crown Prince will provoke her. The Captain of the Guard will protect her. But something evil dwells in the castle of glass--and it's there to kill. When her competitors start dying one by one, Celaena's fight for freedom becomes a fight for survival, and a desperate quest to root out the evil before it destroys her world.
My Review: 6.5/10
I liked Celaena's brand of flaws. She's a little vain and materialistic. These are character traits that aren't dished out too often in the books I read. This is a book about an assassin, so there is gore and unapologetic violence, but it wasn't extreme, thankfully.
The story was interesting enough to keep me turning pages, but there were some things that got in the way and kept me from really getting lost in the story. I could sense a love triangle brewing, which I'm never a fan of. Sometimes Celaena did stupid and uncharacteristic things. As an assassin, she would have spent all of her training learning how to be invisible, how to blend in. She really needed to be told not to draw atttention to herself in the competition? There were several things like this that kept me from buying into the story that she was the best in the land. She was a little too soft, too vulnerable, too reachable, too soon.
I could see some surprises being set up for later on, so I wasn't shocked when I was supposed to be, etc.
I will continue reading the books in this series because I still think it has potential. But the writing and lack of realistic, hard characters are what kept this book from being one of a kind versus one of many.