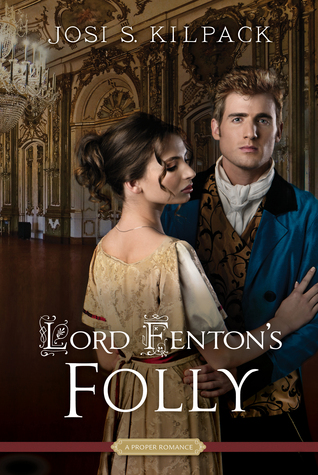 Lord Fenton is a gambler, a dandy, and a flirt—and he must marry or else he will be disinherited, stripped of his wealth and his position. He chooses Alice Stanbridge for two simple reasons: he once knew her as a young girl, and she is the least objectionable option available to him.

However, Alice has harbored feelings for Fenton since their first meeting ten years ago, and she believes his proposal is real. When she discovers it is not, she is embarrassed and hurt. However, a match with the most-eligible bachelor in London would secure not only her future but that of her family as well.

Determined to protect herself from making a fool of herself a second time, Alice matches Lord Fenton wit for wit and insult for insult as they move toward a marriage of convenience that is anything but a happy union. Only when faced with family secrets that have shaped Fenton's life does he let down his guard enough to find room in his heart for Alice. But can Alice risk her heart a second time?
My Review: 9.5/10
I had been highly anticipating this book after absolutely loving the previous book, A Heart Revealed. I devoured it and admit that I was very disappointed. I procrastinated writing a review because I couldn't reconcile my dashed hopes, high respect for the author, and strong dislike of the book. I waited and waited, and as the weeks and months passed, decided I would reread the book, taking notes and writing an unemotional critical review. Well several months later I finally had the time do so and now I cannot even remember what was so off-putting the first time I read it!

To my surprise, I LOVED this book. My favorite thing about Ms. Kilpack's style is her characterization. Very rarely do I come across characters as honest and real as hers. I loved Alice. I loved her innocence, her openness, and her strength. I loved that she was flawed- prideful, humbled, and constantly warring with her need to protect herself versus her need to let her guard down in hopes of beginning a real relationship with her husband. I loved that she rarely played the victim or felt sorry for herself. I loved that she knew when she was wrong in the moment, and was human enough to stay the wrong course... and that she knew how to apologize. I loved Fenton too. He irritated and provoked me, just like Alice. I liked that he messed up and was caught in it sometimes. He was so very well layered, deep and intricate, that I understood and sympathized with Alice's predicament.

*spoliers*

In my first reading, I was probably irritated by another marriage-in-name only set up, however, I have to excuse that as this may have been the ONE situation where I could understand and believe it. Because really, the only thing I thought could have been improved upon was Fenton's reaction to the disinheritance and subsequent change of heart. Given his contempt of his father, I couldn't see him snapping to attention and wanting to prove himself as readily as he did. I needed to see more of his thought process that led him to that point in order to accept it myself. But that was the only thing. The rest of the interactions between father and son were very believable and complicated and real.

On the whole, this book was so well crafted, the relationships so natural and relatable, the messages of vulnerability, healing, and forgiveness so well applied that I highly recommend it.