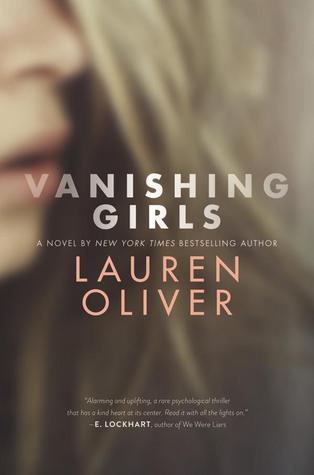 Vanishing Girls
New York Times bestselling author Lauren Oliver delivers a gripping story about two sisters inexorably altered by a terrible accident.

Dara and Nick used to be inseparable, but that was before the accident that left Dara's beautiful face scarred and the two sisters totally estranged. When Dara vanishes on her birthday, Nick thinks Dara is just playing around. But another girl, nine-year-old Madeline Snow, has vanished, too, and Nick becomes increasingly convinced that the two disappearances are linked. Now Nick has to find her sister, before it's too late.

In this edgy and compelling novel, Lauren Oliver creates a world of intrigue, loss, and suspicion as two sisters search to find themselves, and each other.
My Review: 10/10
Lauren Oliver is a genius. A genius. This book is a masterpiece. It is a work of art. It is so... AHHHH you just never see it coming. She is the rare type of author that, after not being able to put this book down, I immediately had to reread it when I finished. And it was entirely different the second time. Every time you read this book, you will go deeper, uncovering more layers and a new appreciation for Ms. Oliver's brilliance.

I don't know how she does it. Everything was so well done that I never suspected a thing; it all just fit perfectly.

That being said, I couldn't love it. This book deals with some seriously heavy issues and it doesn't leave you feeling good which is the only kind of book I can truly love. Lauren Oliver, I implore you, use your powers for good! Give me another Delirium, another good conquering evil, another innocent love. Give me triumph, give me weightless, give me unbroken. I beg of you.