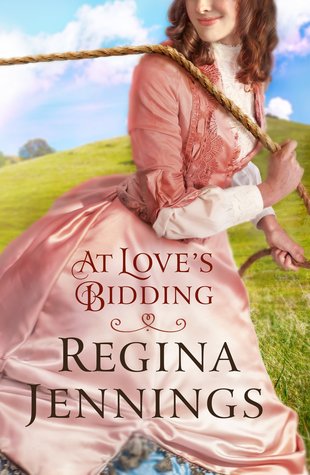 After helping her grandfather at their Boston auction house, Miranda Wimplegate discovers she's accidentally sold a powerful family's prized portrait to an anonymous bidder. Desperate to appease the furious family, her grandfather tracks it to the Missouri Ozarks and makes an outlandish offer to buy the local auction house if they promise not to sell anything until he arrives.

Upon their arrival, however, they discover their new business doesn't deal in fine antiques, but in livestock. And its manager, ruggedly handsome Wyatt Ballentine, is frustrated to discover his fussy new bosses don't know a thing about the business he's single-handedly kept afloat. Faced with more cattle than they can count--but no mysterious painting--Miranda and Wyatt form an unlikely but charged partnership to try and salvage a bad situation getting worse.
My Review: 8/10
I love Regina Jennings and her writing style. I wait all year for her books. They are guaranteed to make me laugh out loud and smile stupidly to myself. This book is no exception. Elmer (and his Lady) and Betsy were hysterical. Intelligent and sassy, but still warm.
Having zero experience with auctioneering and the midwest, I had a little trouble envisioning some of what was described, but I learned a lot too.
For me, Miranda and Wyatt's story just didn't hit me as hard as previous stories. I just didn't feel that chemistry with them. The only thing I can really put my finger on is that I didn't like that they ended up having to conceal things from each other. I'm glad it wasn't blown out of proportion, the way that so many other stories are, but it made me anxious while I was reading it, fearing the worst.
I still highly recommend this book. Ms. Jennings does an amazing job at bringing unique characters to life. Trust me, you want to
know
these people.