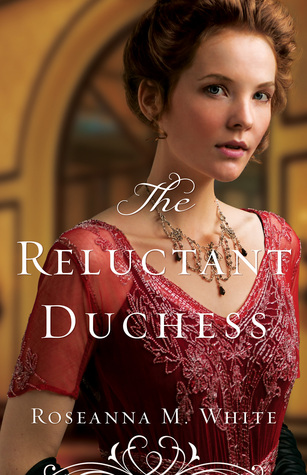 Lady Rowena Kinnaird may be the heiress to a Highland earldom, but she has never felt good enough—not for her father, not for the man she thought she'd marry, not for God. But after a shocking attack, she's willing to be forever an outcast if it means escaping Loch Morar and the men who have jeopardized her life.

Brice Myerston, the Duke of Nottingham, has suddenly found himself in possession of a rare treasure his enemies are prepared to kill for. While Brice has never been one to shy away from manor-born ladies, the last thing he needs is the distraction of his neighbor, Lady Rowena, who finds herself in a desperate situation. But when the moody Earl of Lochabar tries to trap Brice into marrying Rowena, Brice finds he's not as opposed to the idea as he expected to be.

Rowena wanted to escape the Highlands, but she's reluctant to resort to marrying a notorious flirt just to gain his English home. And when she learns that Brice is mixed up in some kind of questionable business with a stolen treasure, she 'fears she's about to end up directly in the path of everything she was trying to avoid.
My Review: 5/10

I loved the beginning of this book so much. Having not read the first book, it was a little confusing at first, with all the nicknames and titles and changing view points. But it picked up so quickly that I found myself doing the "just one more page... chapter" dance til 2 am when I finally felt I could pause and sleep.

Things were starting to get good. I liked that the book dealt with real issues and real fears and that Rowena was honest in situations most people might plead the 5th in.

Then things started to shift. Brice went from being patient and understanding to over the top doting. And Rowena responded in anger and resentment that he apparently thought her incompetent. What? You are suffering the after effects of recent abuse, frequently being overwhelmed by fear, and when he tries to be sensitive to you, you're offended and assert your independence?! It was like she had a personality disorder.

Both of them really started to bug me- Brice with his flawless patience and Rowena with her Proud Daughter of the Chief vs. Insecure Dowdy Victim back and forth. And then things went from bad to worse. Rowena embraced insecurities and stupidity.

That was the last straw for me. She was warned about dangerous people and yet... she was never on her guard, ate up everything they said, aligned herself with them and then started covering for them. Within the space of minutes. I could see how this was going to play out- her insecurities would breed jealousy and desire for Brice. She would be duped. She would be threatened. Their true nature would be revealed, he would save her, convince her of his love and all would end happily. I don't mind predictability. But the characters became insufferable to me in their naivete and gullible-ness.

And despite it starting out SO good, at about 50% of the way through, I was too angry to finish it.

I wouldn't recommend this book but the beginning gives me hope for this authors potential in future books. I might even check out the first one in the series, since Brook seems intelligent and like a fighter and that's the kind of person I want to read about.